Autumn BBQ!
Here we go again.... This will be the last BBQ, as the warm weather won't hold out much longer.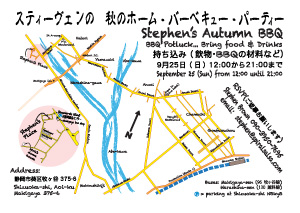 Fall BBQ: Click to download PDF
This is a pot-luck, as usual. There will be kitchen cooking facilities and a BBQ so bring ingredients or bring a main dish... your choice. BYOB. Ice provided.
Bring a musical instrument if you play... We is a jammin'!
Date/Time:
Sunday, Sept 25th.
Open house from 12 noon to 9 PM. (come whenever you're free that day.)
RSVP
Please use the contact form on this blog or the email address on the PDF flier to register.